Hunter Cornhole Tournament Champions…Almost

Members of the design community in northern San Diego gathered together April 26th for the 2nd annual Cornhole Tournament, and let me tell you, things got real. Although this event, spearheaded by Hunter's Chris Roesink and Belgard's Stan Jirovsky, is relatively new to the scene, it is a favorite of GMP employees, so we came ready to win. And we almost did. Highlights of this perfect spring evening at Viewpoint Brewery included punny team names (A-Maize-Bags and Corn Stars, to name a few), great food, better beer, rubbing elbows with jubilant design professionals, and aesthetically pleasing yet precarious hanging benches that gave you a heart attack any time anyone moved. GMP cornhole enthusiasts Leigh Olszewski and Rebecca Gedeon teamed up together with the sole motivation to dominate, to uphold Leigh's winning title from the year prior. They moved their way gracefully up the bracket, narrowly missing the opportunity to play against fellow coworkers Rob Streza and Wazeem Khan, and found themselves throwing in the finals against John Avila (Urban Arena) and Rich Risner (Grounded Landscape Architecture). The game was long and tense, with a dramatic shift in Avila and Risner's favor towards the end, which led to GMP settling (somewhat) peacefully into the second place title. Scott Ulrich, from QCP, generously provided company gift cards to the winners, and Amazon gift cards were passed out as well, so all in all, while the title of Cornhole Champions does not reside in GMP's halls this year, the fantastic memories of a great industry event and new colleagues-turned friends will suffice. We're coming for you, 2019 trophy!
Leigh (foreground, right) and Rebecca, opposite him.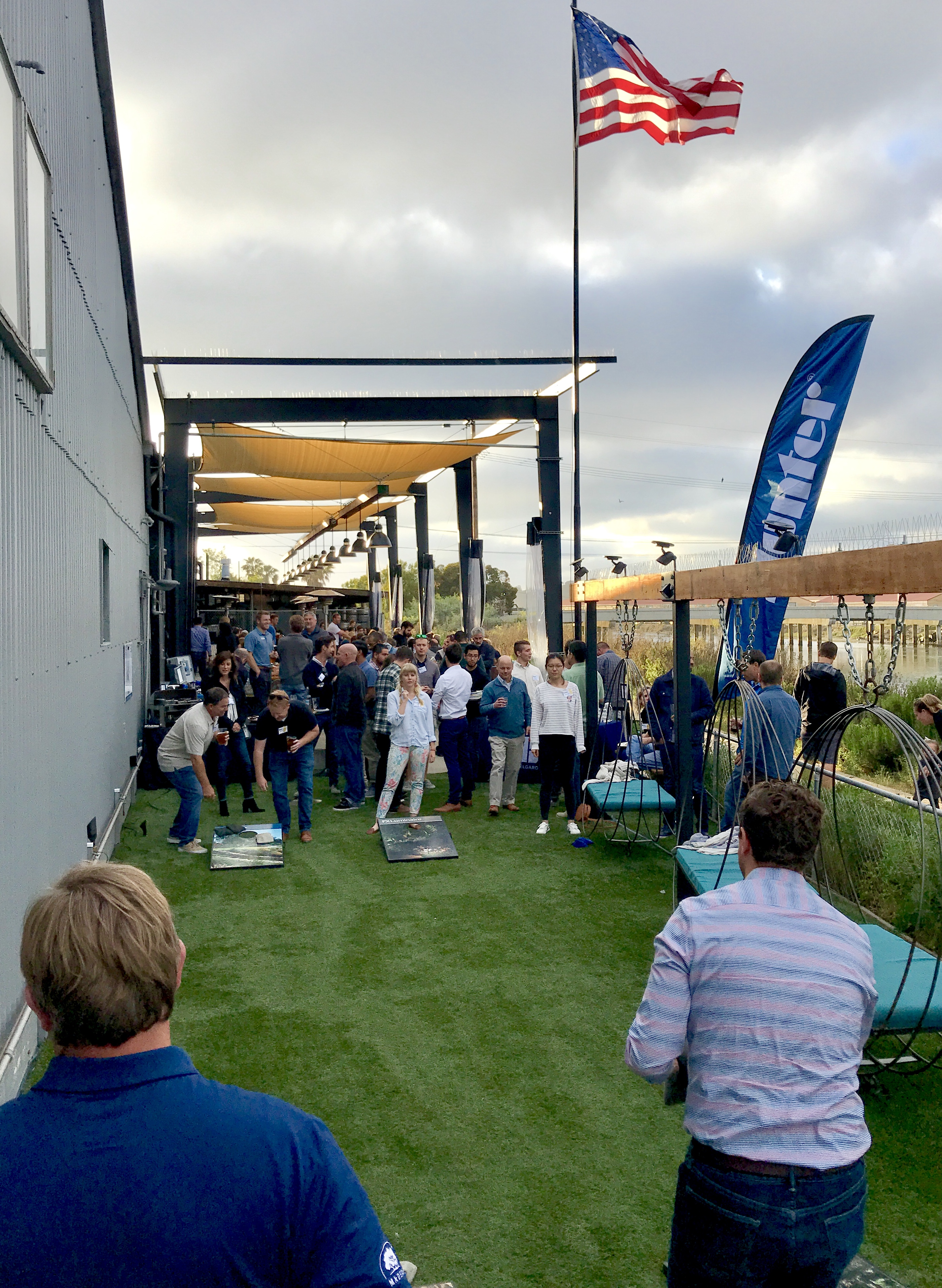 The true champions, along with the event coordinators!